Central FM's Anniversary Tournament 2023
Central FM
Central FM's Anniversary Tournament 2023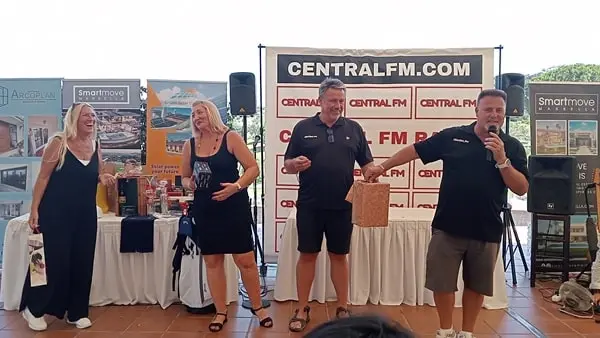 Central FM hosted yet another amazing golf tournament at La Cala Golf to celebrate our 27th year of broadcasting across the coast.
We included great live entertainment with the amazing band Revival and a brilliant debut performance from Jessica Brown.
Hole 10 offered a fun Central FM lucky dip and a drinks hole sponsored by Grupo Solar electric with a hamper draw won by James Barrett.
La Cala Golf has 3 incredible golf courses and the one used for the tournament was The America course.
The Pairs Texas Scramble Winners were:
First place: Mike Brown and Timo Zelfde
Second place: Neal Kotak and Ross O´Sullivan
Third place: Mick Partridge and Andy Brown
Nearest the Pin trophies
were won by Tanya Kreutzer, Jason Abbasciano, Richard Castle, Robert Holland and Neal Kotak
Longest Drive trophies were won by Timo Zelfde and Tanya Kreutze
Thank you very much to all the sponsors who made this possible:
Main sponsors were Smartmove Marbella, Arcoplan, Grupo Solar Electric and Legards Builders Spain
Nearest the Pin, Longest Drive and hole sponsors were:
Smart Rentals Marbella, Paseo 100, Vinea Restaurant, Six Star Cleaning, Blevins Franks, Simply Events and Catering, Anda Golf, Currencies Direct, Salon Varietes, Sumerco and Insure Me Spain.
Thank you very much to all the staff at La Cala Golf, Claire Hirons and Lucia for all their help with the drinks stand and setting up and also all those who supplied raffle prizes!