Central FM Tournament was a huge success!
Central FM
CENTRAL FM TOURNAMENT WAS A HUGE
SUCCESS!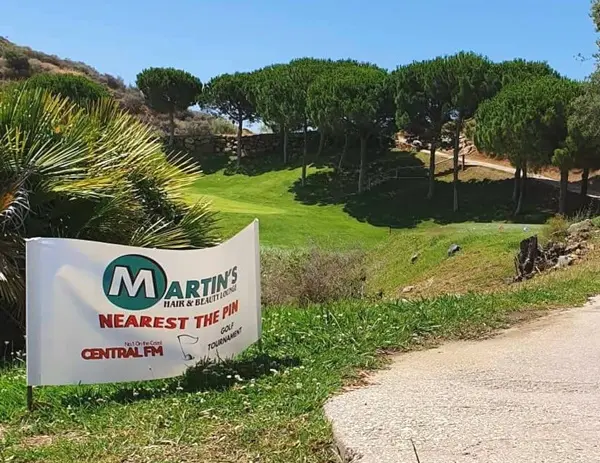 The third Central FM tournament could not have gone better with 72 players challenging each other for great trophies in an exciting Pairs Texas scramble! Alhaurín Golf served a fabulous lunch and excellent live entertainment with Fade Out Duo was provided with everyone singing and dancing to popular songs.
The Winners were:
First place : Steven Brown and Hayden Brown
Second place : Kees de Cock and Frank Scheelings
Third place : Kieran Moloney and Dean James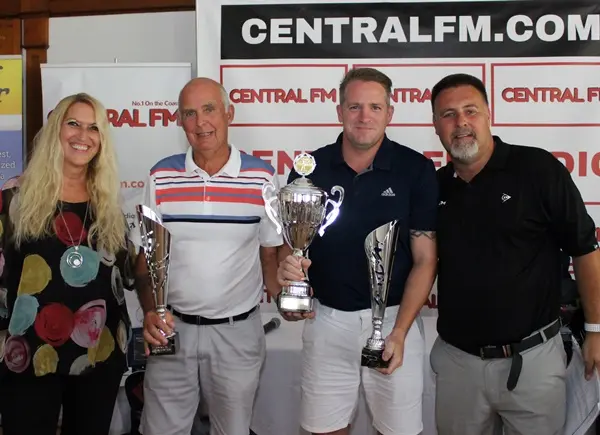 Nearest the Pin trophies were won by Lynn Fisher, Miguel de la Cruz, Alexander Walsoe, Andreas Golob and Michael Brown, who also won the Central FM BBQ prize for one of the holes!
Longest Drive trophies were won by Lynn Fisher, Dean James, Rocio Navarro and Central FM's John Gale.
Andrew Whitney from South Coast Kitchens very kindly donated a signed Miguel Ángel Jiménez shirt which was auctioned for an incredible 650 euros! The Castillo de Monda Hotel donated a night's stay and the Vithas Xanit hospital an overall checkup which with other generous donations raised an amazing 1700 euros for the children's home in Málaga, Ciudad de los Niños who are always in need of a variety of summer items.
Thank you very much to all the sponsors who made this possible : Ku'Damm Restaurant, Smartmove Marbella, Yellow Car, Arcoplan, Martin's Hair and Beauty Lounge, Rubi Restaurant, Frederick's, Sumerco cash & carry, Spence Clarke Accountants, Anda Golf, South Coast Kitchens, Discover Andalucía 4x4 and Ye Ole Butchery!
Also thank you very much to all the staff at Alhaurín Golf, Central FM's Jessica, Calu, Hugh and Sophia for all their help with the food stand, photocall photos and display, Mark Shone from Target Pix for all the presentation photos plus videos and all those who supplied raffle prizes!
There were, in fact, over 72 raffle prizes courtesy of Central FM, the sponsors and clients which meant every player took something home!
We look forward to the next exciting tournament.
Please see the photos in the
gallery